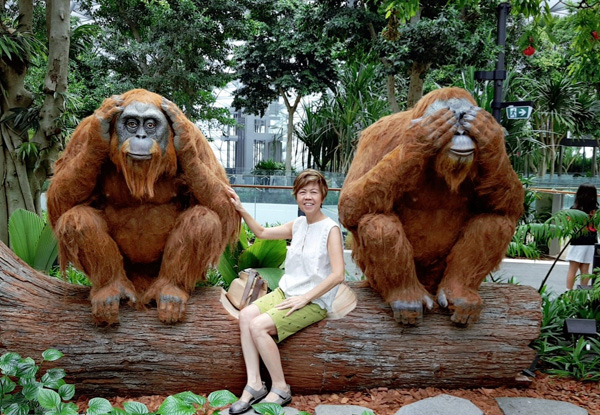 A presence in the meetings industry since 1990, Nancy Tan is Founder and Managing Director of Ace:Daytons Direct (International) Pte Ltd. A Certified Meeting Professional (CMP), Nancy has been at the helm of many international conferences, including the 3rd World Congress of Nephrology, The 21st International Council for Commercial Arbitration Congress and the IEEE Globecom 2017. Her team is also behind the award-winning MICEapps, an application that offers more than 50 application modules in a single and fully-integrated platform to suit the various requirements of the different stakeholders in the MICE Industry. She is one of the seven founding members of the World PCO Alliance.
What drew you to the meetings industry?
I was working in Ace:Daytons Advertising (Int'l) Pte Ltd as Account & Operations Director, taking charge of business development, servicing and operations of the company. One of my key accounts was Aiwa Singapore Ltd, a subsidiary of Aiwa Co. Ltd, Japan. I handled their Advertising and Promotion.
In year 1990, I was being asked by Aiwa to help them manage an international sales conference. We thought it should be easy, since we were also handling their consumers' promotions of more than 300 participants, but we were wrong—organising events was a totally different ball game. However, our client had confidence and faith in me and my team, and thanks to a lot of hard work, the first event was a great success.
Name a few career highlights.
Founding my own company, Ace:Daytons Direct (International) in 1994 was one of the greatest highlights of my career.
A milestone achievement was organizing the 3rd World Congress of Nephrology with around 5,000 participants, 8,800 square meters of exhibition space and 1,100 abstracts. Ace:Daytons Direct was one of the three finalists for the 2006 Best Association Conference Organiser Award by the Singapore Tourism Board.
I am so proud of the mobile app that my team and I created. It's the first all-in-one integrated MICE solutions for the entire MICE industry, not just in Singapore but for the region. Thanks to MICEapps, Ace:Daytons Direct was named Best Business Event Service Provider for the 2016 Singapore MICE Forum at the 2017 Singapore Tourism Awards.
Most recently, I had the privilege of helping the Singapore Society of Anaesthesiologists and Singapore to bring the 18th World Congress of Anaesthesiologists to Singapore in 2024. This congress should draw between 6,000 to 10,000 participants.
What is your favourite part of your client relationships?
For me, running a conference is just the beginning. The key element is my clients' confidence and faith in my team and in me. In fact, many of our clients become our friends and they do refer us to their colleagues in other associations when they need PCOs to manage their conferences. For example, we handled the 3rd World Congress of Nephrology in 2005 and today, we are still assisting the Singapore Society of Nephrology in handling their 18th Asian Colloquium in Nephrology.
What do you bring to a client in terms of his/her event?
At the core, lie our expertise and knowledge not only in the basics of organising a conference, but everything beyond. Secondly, as a local PCO, we know the local players very well and boast an extensive network in Singapore and the surrounding areas.
We're also equipped to counsel our clients on legal and fiscal matters as well as marketing and communication strategies, sponsorship strategies and pharma codes.
Finally, we offer MICEapps, our very own all-in-one integrated platform from pre-event to onsite and post-event, optimizing the experience for all stakeholders, including speakers, exhibitors and participants.
What is one inaccurate myth about your country that you're amazed still exists? What's the reality?
People believe that Singapore is made up of one island, but in reality, Singapore consists of 63 islands. Some of these islands are used for military training purposes while others are tourist destinations and are open to visitors. These include Coney Island, Sentosa Island, St. John Island and Pulau Ubin, to name a few
In addition, in Singapore, not only can you do bar-hopping, you can also do island-hopping. For example, Lazarus Island is famous for its almost deserted beach while Sentosa is known for its attractions, including Universal Studios, Madame Tussauds, Marine Life Parks and its beaches. The next time you come to Singapore, I strongly recommend an island-hopping tour, and best of all, it won't break the bank.
What is one thing an organization needs to know to hold a successful meeting?
It is important to identify your target audience and determine what will attract delegates, sponsors and exhibitors to your congress.
With that in mind and coupled with a good programme, good speakers, smart pricing, and open communication between the different committees and PCO, you're all set. Being flexible in making any adjustments to suit the needs of the host country is also key.
ACE:Daytons Direct was awarded best association conference organiser at the Singapore Tourism Awards 2019. Describe that accomplishment.
Wow! It isn't easy to win a Singapore Tourism Award. They're Singapore's most prestigious awards for the tourism sector and bring together the industry's best in delivering outstanding experiences and demonstrating company excellence.
For association conferences, there was only one award category we could enter and there are so many association conferences being held in Singapore each year.
I was very surprised but thrilled that Ace:Daytons Direct was not only being recognised by our clients but also by the MICE industry at large.
All the hard work, cold sweats and late nights put in by our dedicated team paid off with this accolade. This award is for them—for their commitment and hard work. In turn, the RCOG World Congress 2018 achieved many milestones never before seen in the history of the Congress.
What are your professional goals for the future?
I am a believer in technology, and as far back as year 2000, we created our own technology to help our clients and us in the organising of the conferences and exhibitions.
Today, Ace:Daytons Direct continues to evolve and we've introduced the MICEapps for association management, MICE Mobile (both IOS and Android), MICE Kiosk for onsite badging, MICEleads for scanning, MICE Live Q&A, MICE Survey, MICEdraws and more. These programmes will enable us to continue providing added value to our clients and industry to have more meaningful conferences and exhibitions.
When you aren't organizing events, you are…
Going for high-tea with my family!
I also love going on holiday with my siblings and friends! I want to go to places that I won't be able to visit when I am too old, such as places that require lots of climbing and walking.
Together with my sisters and our friends, we have visited Bhutan and climbed the Tiger Nest. We have also visited Mount Huanshan, Jiuzhaigou and Shangri-la to name a few. Next on our list is the Silk Road—perhaps next year when I'm not too busy!
If you were stuck on a deserted island, what is one thing you would want to have with you?
Haha! Good question. The first thing that comes to mind is my laptop, but I would need Wi-Fi and electricity. I think I would just want to be with my family.
If you had to wear one set of clothes for the rest of your life, what would you wear?
T-shirt, casual pants and definitely comfortable walking shoes!
What has your WPCOA membership meant to you? What makes it so unique and valuable to both its members and to organization clients?
Being one of the seven founding members of WPCOA 10 years ago, we created this alliance to allow us to share ideas, provide cross-training, collaborate, build strong relationships and refer business to each other. I must say that not only have we achieved all those objectives, but the Alliance also brings together this incredible group of friends who are leaders of companies as well as of the MICE industry in their respective countries. Together, we represent such a depth of experience in handling international association meetings. The Alliance also facilitates business operations in member countries, as they are our extension when we're there.
Click here to read last month's interview with Andre Vietor from BCO Congresos.